Bowmore Tempest 10 YO Small Batch Release No. 1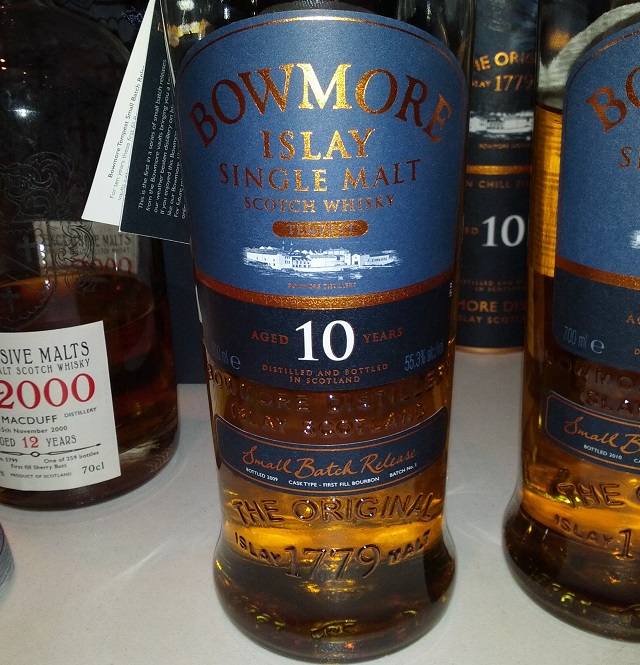 Bowmore Tempest 10 YO Small Batch Release No. 1, 55,3 %
Lucky me got a chance to taste Bowmore Tempest 10 YO Small Batch Release No. 1! My husband has written about Batch No. 4 earlier. I have tasted batch three and four earlier.
The whisky has matured in first-fill bourbon casks and was bottled in 2009. There was a total of 12 000 bottles.
Batch 5 is available at Vinmonopolet (item number 5266901) at NOK 579,90. Batch 5 will be available in Sweden 21 November 2014.
Nose (21/25): A touch of flowers on the nose, but not too dominating. Dried apricot. Fruity and salty. Some smoke, but the smoke is actually very shy.
Taste (21/25): I was first met by salt. When my mouth got used to the very salty taste, it was time to absorb other tastes like flowers, lemon and vanilla.
Finish (21/25): In the end flowers and vanilla hid the saltiness a little bit. But still quite salty. The tasting experience ended with licorice and lemon, like Kick (a soft candy).
Balance (21/25): A well balanced whisky I would say. All in all very salty. Too salty, I think.
Score (84/100)
I think both batch 3 and 4 were slightly better than batch 1. But of course it would have been most fair to make that judgement if I could have compared all of them at the same time.
Thanks for giving me a dram of batch 1, Patrik!
- Tone