Amrut Indian Malt Blackadder Raw Cask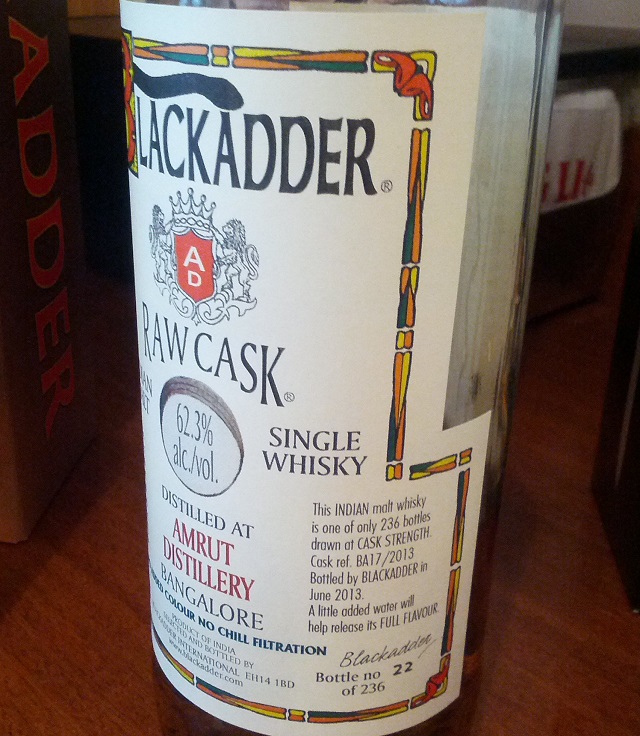 Amrut Indian Malt Blackadder Raw Cask, NAS, 62,3 %
I'm still thinking back on all the lovely whiskies we tasted on Cinderella Whisky Fair 2014. My husband and I attended a masterclass on Cinderella with Robin Tucek, mr Blackadder himself.
I really do love Amrut in general. One of the whiskies in the masterclass was Amrut Indian Malt Raw Cask. This is a no age statement (NAS) whisky. It was bottled in June 2013. It has been matured in a first fill sherry cask BA17/2013.
The whisky is not available in Norway, but I guess it is available at Systembolaget in Sweden named Amrut Sherry Raw Cask (item number 84474) for SEK 1101.
Nose (23/25): At first a lot of oak. But after a short while...ripe peach, prunes, figs, spices...wow! A warm and full smell. And: Chocolate! Lots of chocolate. But not too sweet.
Taste (23/25): Very full and rich in taste. Still some oak at first, but in a nice way. Then dried fruits. Both peach, prunes and figs. Cardamom and cinnamon.
Finish (23/25): An everlasting taste. Really warm. Still the same dried fruits with cardamom and cinnamon. A bit dry in the end, but in a good way.
Balance (23/25): This is a really, really lovely Amrut. Well-balanced all the way through.
Score (92/100)
- Tone