William Cadenhead 13 YO Irish Malt - Bourbon Cask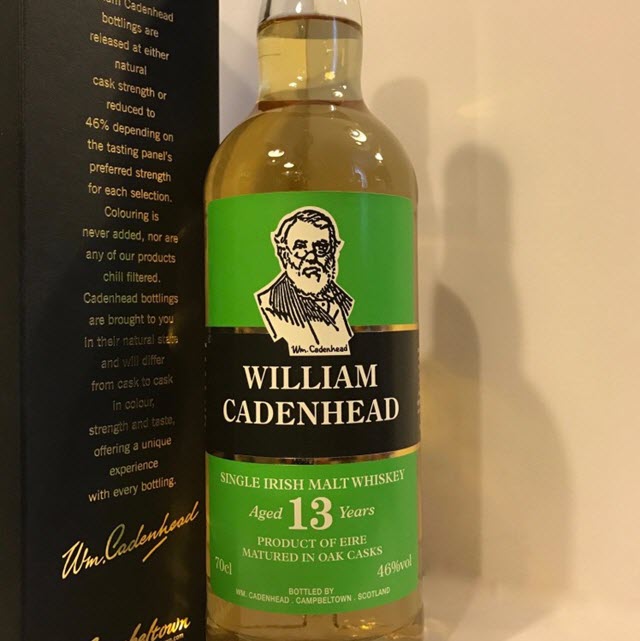 William Cadenhead 13 YO Irish Malt - Bourbon Cask, 46 %
Here's a fine and very drinkable Irish malt whiskey bottled and sold by independent bottler Cadenhead. The whiskey itself is from an undisclosed distillery, but my guess is Cooley.
There is little info on the Cadenhead website about this product, but it is a batch production - in fact with a batch so small it is single cask:
"This whisky will be bottled from a single cask at 46% Vol if this changes from batch to batch we will let you know."
You can buy the William Cadenhead 13 YO Irish Malt - Bourbon Cask in Norway at NOK 695 (3911601), and in Sweden at SEK 1147 (85480). This whisky is currently sold out from the Cadenhead online shop. It will most likely be back soon with another batch though. Online the price was GBP 43.50.
Nose: Vanilla, light caramel, coconut milk, pineapple, honey, cut grass and hints of oak.
Taste: Cool and light mouthfeel. Sweet fruit juice. A bit sugary. Oaky spiciness. Almonds and unsalted peanuts. Caramel.
Finish: Medium to short finish. Very clean, and quite sweet. A faint flavor of apples mixed with the honey and caramel now.
Comments: Very straightforward, I would say almost simple, yet very drinkable.
Score (82/100)
Sláinte! - Thomas