Tamdhu 1984 27 YO Adelphi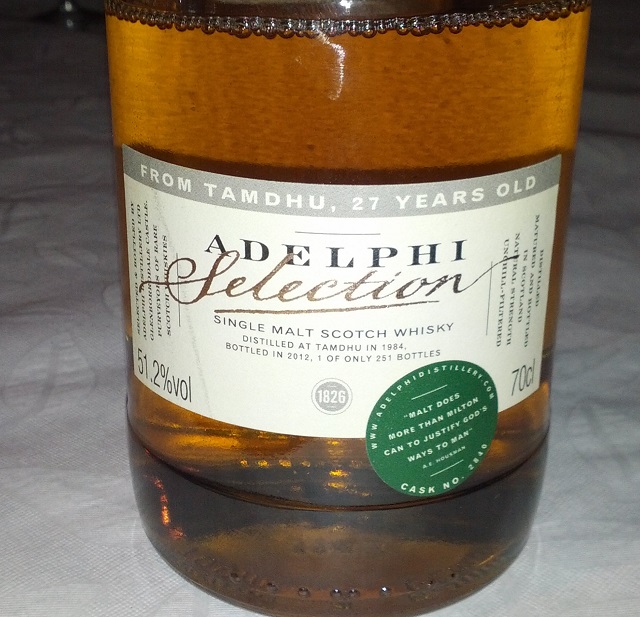 Tamdhu 1984 27 YO Adelphi, 51,2 %
Tamdhu distillery is one (of many) distilleries I yet have a lot to explore. Last week I got a chance to taste a 27 YO Tamdhu from the independent bottler Adelphi.
I have shared my tasting notes on one Tamdhu earlier; Tamdhu 1994 16 YO Chieftain's Choice. My experience with this distillery is very limited. All in all I have tasted four different Tamdhus.
Todays whisky is distilled in 1984 and bottled in 2012. It has matured in refill bourbon cask #2840. Total number of bottles are 251.
This one is available in Norway at NOK 1639,40 (item number 9772101) and in Sweden at SEK 1432 (item number 85983).
Nose (22/25): Sweet and smooth on the nose. A lot of vanilla and apricot. Fruity and spicy. I did not manage to decipher the spices, but they gave some warmth to the smell.
Taste (22/25): I was met by licorice on the palate. Quite fruity as well. To me this was not a typical bourbon cask. The fruits were dark and warm, like apricot or nectarine and plums. Warm and rich taste. It was a bit rough on the tongue.
Finish (21/25): A warm finish, again with spices and fruits and aniseed. A bit woody and dry and a tiny hint of metallic aftertaste.
Balance (21/25): Fruity and spicy from start till finish. I would have wished for longer and more exciting finish. But this was a nice Tamdhu. I gave this one very much time in the glass and both nose and taste improved as time went by. I could absolutely drink more of this.
Score (86/100)
- Tone