Old Pulteney 1990 25 YO Authentic Collection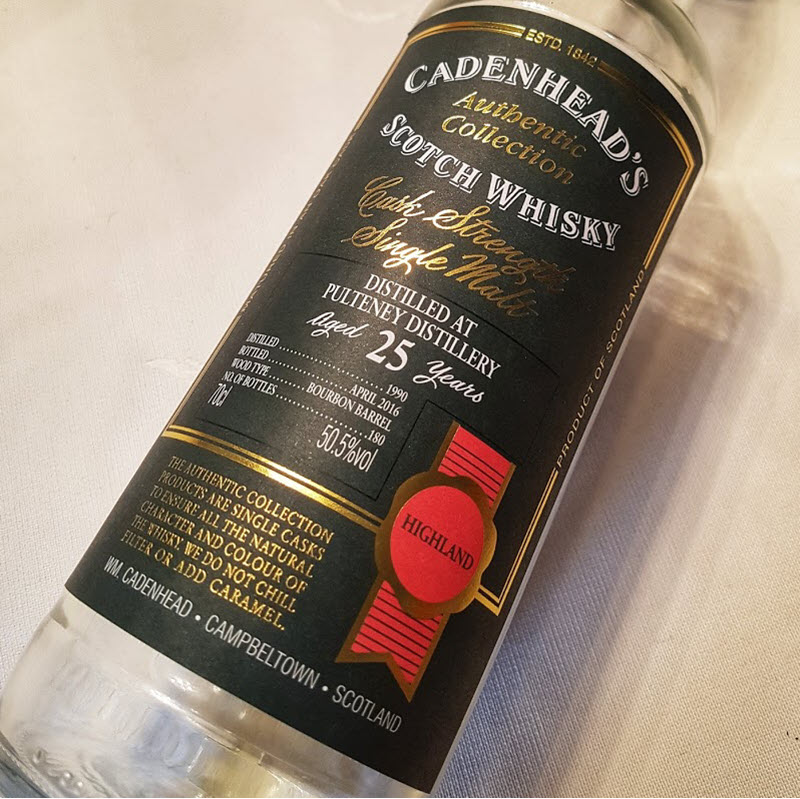 Old Pulteney 1990 25 YO Authentic Collection, 50.5 %
This is a wonderful, maritime dram from independent bottler Cadenhead. The Old Pulteney 1990 25 YO Authentic Collection is a single cask release, bottled at cask strength. It was distilled in 1990, matured in a bourbon barrel, and bottled in April 2016. The total outturn was 180 bottles.
This whisky is sadly sold out, but if you come across it at a whisky bar make sure to have a dram.
Nose: Distinctly maritime, but perhaps confusingly unpeated (if you are an Islay fan). Salty - I guess you guessed as much. Pineapple, watermelon, coconut, vanilla, ginger, honey and limestone.
Taste: Full-bodied and rich. Salt and pepper, ginger and vanilla, apple and canned pineapple, coconut and almonds. A touch of oak.
Finish: Medium to long finish. The honey is more pronounced now. It takes on an almost buttery or creamy character. Peppery notes give a nice and warm glow towards the end.
Comments: A wonderful delight of a dram. Too bad the bottle is now empty!
Score (91/100)
Sláinte! - Thomas