Invergordon 2006 8 YO Svenska Eldvatten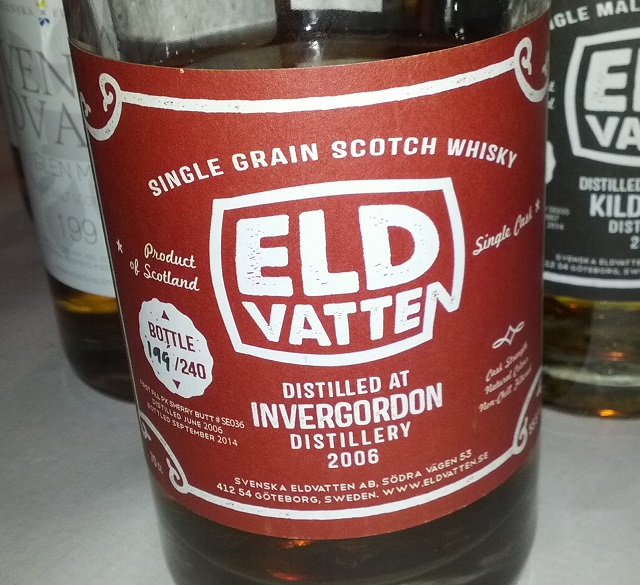 Invergordon 2006 8 YO Svenska Eldvatten, 55,5 %
Today I write about a single grain whisky. I want you to know that I am not a big fan of grain whiskies. I therefore recommend you to take notice of my tasting notes rather than the score. If my husband had written this review, I guess the score would have been about 85-86.
Just to give you a picture: I have tasted 17 grain whiskies. The average score is 82.
Well, the Swedish independent bottler Svenska Eldvatten has released a quite young Invergordon. It was distilled June 2006 and has spent 8 years in a Pedro Ximenex sherry butt #SE036 before it was bottled into 240 bottles September 2014.
This Invergordon will be available in Norway 6 March 2015 at NOK 1 299,90 (item number 2161201). It is already available in Sweden at SEK 898 (item number 84614).
Nose (20/25): The smell started off with bourbon notes, Coca Cola, caramel and corn. Then came a wave with new smells, more fresh, with citrus, some mint and ginger.
Taste (21/25): Rich taste. I found bourbon, burnt caramel and Coca Cola here as well. Very smooth. After some sips there was malt, ginger and salt. Quite warm.
Finish (20/25): Smooth, long and warm finish. Especially the Coca Cola and malt lingered.
Balance (21/25): Well, I would call this a well balanced grain whisky, especially considering its age. But what's up with me recognizing Coca Cola? As I have told you before I do not drink Coca Cola. Maybe it is the bourbon notes with the corn syrup or something?
Score (82/100)
- Tone