Glenburgie 1992 21 YO Old Particular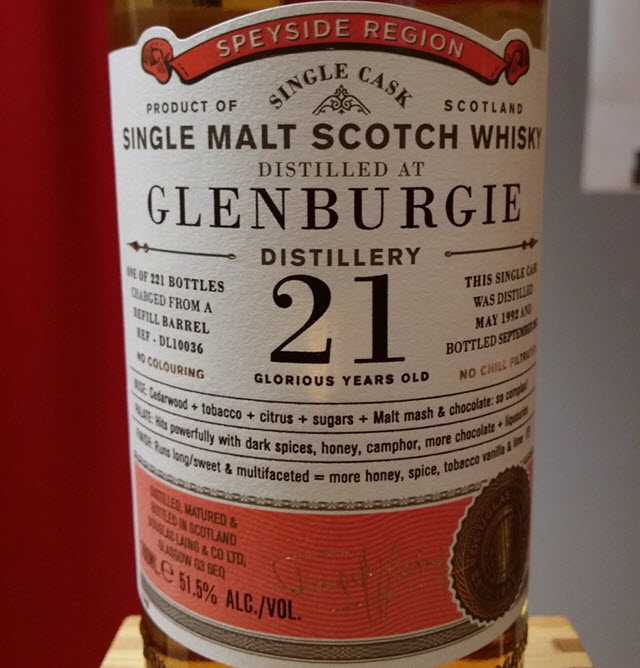 Glenburgie 1992 21 YO Old Particular, 51,5 %
Today I present to you a rather new expression from Douglas Laing. The Glenburgie 1992 21 YO Old Particular. This is a single cask release, with a total outturn of 221 bottles. The whisky has been matured on a refill barrel, cask #DL10036. It was distilled in May 1992, and bottled in September 2013.
This is a Speyside whisky, and it is currently owned by Pernod Ricard. It was last closed between 2000 and 2004. production now is at around 4,2 million liters alcohol per year. Most of the production is for blends.
You can purchase the Glenburgie 1992 21 YO Old Particular at Vinmonopolet at NOK 1200 (item number 1473801).
Nose (22/25): Lovely maltiness, rounded, massive and nice vanilla, mild licorice. There's a slight woodiness here as well, as an added spice.
Taste (22/25): Sugary, peppery, and fruity. I find both fresh and candied apples, as well as chocolate and licorice.
Finish (23/25): Warm, long, full-bodied, and sweet. It is very rich and complex. This whisky keeps on giving! The fruits come and go (mainly citrus fruits now), and there's sugar, caramel and syrup.
Balance (22/25): A really nice Glenburgie! This distillery is becoming something of a favorite of mine, and I have tasted several more recently. More reviews to follow.
Score (89/100)
Sláinte! - Thomas