Arran Amarone Cask Finish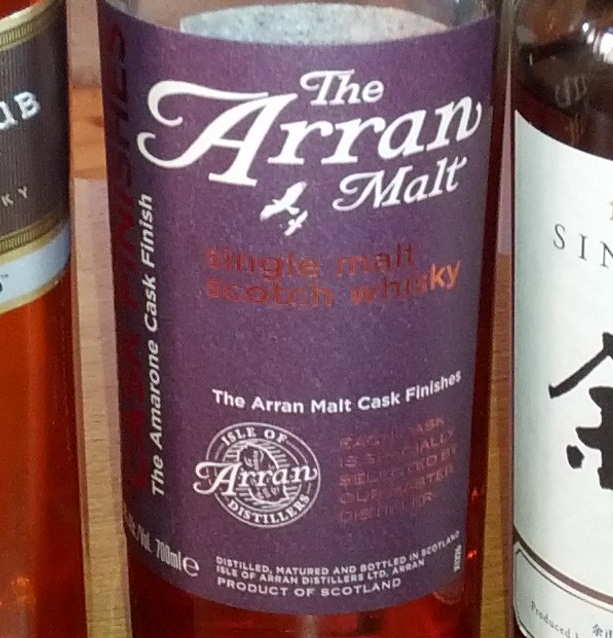 Arran Amarone Cask Finish, NAS, 50 %
På det siste møtet i The Ladies' Share, smakte vi blant annet Johnnie Walker The Spice Road. I tillegg hadde vi Arran Amarone Cask Finish.
Arran Amarone Cask Finish er tilgjengelig på Vinmonopolet for NOK 670 (varenummer 9953401) og på Systembolaget for SEK 549 (varenummer 84308).
Dette var en whisky som ble ansett som en god hverdagswhisky hos den Ladyen som tok den med. Nå gjenstår det å se hva vi syntes om den!
Nose (20/25): Her var det mengder av druer og uluftet rødvin. Ikke så mye mer å si, men den var god.
Taste (20/25): Ganske skarp på smaken. For øvrig druer her også. Etter hvert ganske smooth og søt.
Finish (20/25): Den var ikke tørr på ettersmaken. Jeg skriver det fordi vi ut fra druene på lukt og smak forventet en litt sånn tørr drueaktig ettersmak.
Balance (20/25): Slettes ingen dum whisky. Den smakte imidlertid annerledes enn "normalt", ifølge Ladyen som eide flasken. Kanskje skyldes det rekkefølgen vi drakk whiskyene i...vi har visst fortsatt en del å lære der. Jeg skal avsløre rekkefølgen i anmeldelsen førstkommende lørdag, så kan dere få si deres mening.
Score (80/100)
Følg med! Førstkommende lørdag kommer altså anmeldelse av den siste whiskyen fra The Ladies' Share-møtet, og den ble kveldens vinner!
- Tone